SHOW ORGANISATION
As the show organiser D&M Tools are responsible for the organisation and running of the show, along with the special show deals. Should you require any assistance during the show please feel free to approach D&M staff directly or at the information desk located in the entrance lobby.
REFRESHMENTS
The Panoramic Restaurant is located on the 2nd floor, offering hot and cold drinks, cakes, snacks and a full hot food lunchtime menu with seating for 400 people and sensible prices together with spectacular views across the racecourse!
A Costa Coffee outlet is on the ground floor just inside the entrance, plus, located at the entrance to the show, will be fast food catering vans for snacks and refreshments, these open at 9am each day for people arriving early and stay open all day.

Costa Coffee on the Ground Floor &
The Panoramic Restaurant on the 2nd Floor - Serving a variety of hot meals and beverages - with spectacular views!


Outdoor Catering Vans - open from 9.00am

TOILETS
Toilets are located on both floors and clearly marked (see floor plan for location). Disabled facilities are also catered for.

DISABLED FACILITIES
Wheel chair access on all floors with lifts to 1st floor and 2nd floor Panoramic Restaurant. Toilet facilities are also on all levels.

FIRST AID
A First Aid Room located on the ground floor and is manned with trained medical staff.
In the event of medical assistance being required, contact a member of D&M staff.
Alternatively, speak to members of staff at any of the sales desks who are in radio contact with the show manager.

CASH MACHINE
A cash machine is located just outside the entrance to the exhibition (Please note it is sometimes out of action).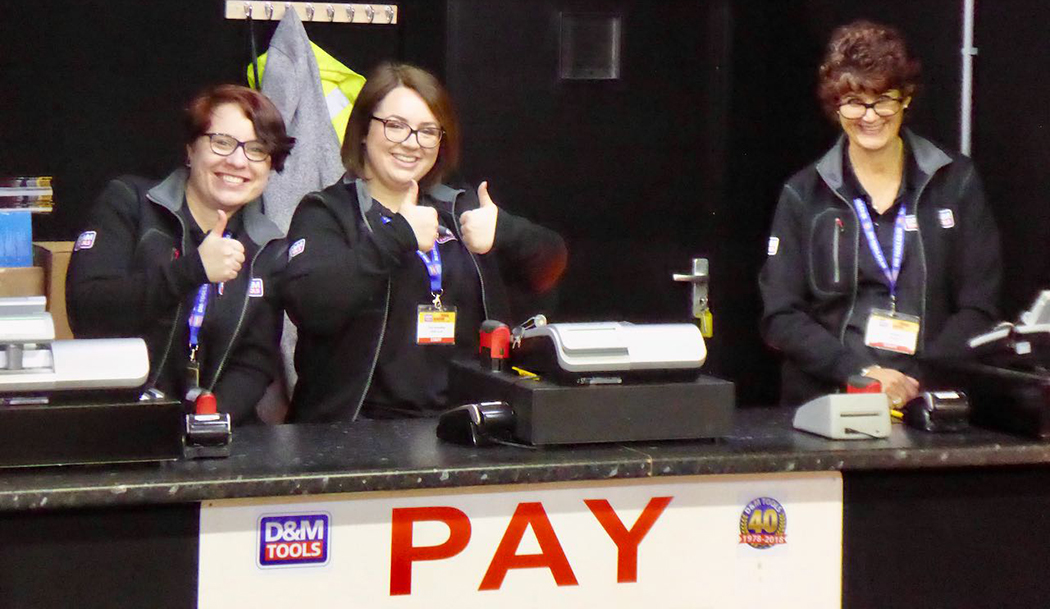 HOW TO PAY
Each exhibitor will fill out an official show order form consisting of three parts.

Located on both floors are sales desks (15 in total). Hand all three copies to a sales desk cashier who will process your order. For ease, several order forms can be processed at once from different suppliers.

Once you have paid and have both copies completed, return to the stand to collect your goods. Items to be picked up from the collection point on the ground floor will be pointed out by the exhibitor.

Large and heavy items can be collected by car as directed.

Items too big to take away can be delivered but will incur a delivery charge, details for which will be taken at the exhibitor's stand after the payment has been made. Please allow 10 to 14 days after the show for delivery, due to the large volume of orders being handled. Exceptions to this will be pointed out at each stand and marked on your receipt.

Payment may be made by cash, Visa, MasterCard, Switch, Delta and Solo. Cheques are no longer accepted. For fast payments a cash-only till is situated at each of the sales desks.
Note: We hope that the number of sales desks provided will mean that the time required to make your purchase will be kept to the minimum. Please assist the cashiers wherever possible to process your invoices.

Please keep your receipts safe before returning to collect your goods, and retain them for any queries following the show.

SAFETY
Power tools and machinery can be both dangerous and an obstacle.
Please take all necessary care whilst moving around the show and visiting any display and demonstration areas within the show.

Please handle tools only under the guidance of each manufacturer.

Please pay particular attention to young people visiting the show, as they are smaller than adults and often head height with machinery.

Children should be kept by your side and under supervision at all times.
Help us to help you to have enjoyable and safe visit to the show.
HOW TO CONTACT US

D&M Tools
73-81 Heath Road
Twickenham
Middlesex, TW1 4AW
Tel: 020 8892 3813
Email: sales@dm-tools.co.uk
Web: www.dm-tools.co.uk