RECORD POWER MASTERCLASSES

Stand 110, Hall 3, First Floor
In addition to the exclusive show deals and expert advice, there will be demonstrations throughout the day on the following subjects: Lathes, Bandsaws, Scrollsawing, Tool Sharpening.


Woodworking Live 2019 from Record Power
Desert Orchid Suite, Second Floor


Woodworking Live from Record Power is back again for 2019! This show has quickly established itself as one of the area's most exciting woodworking events!
Record Power we are passionate about woodwork and delivering the best quality and value tools possible to help woodworkers realise their full potential. This exciting show brings together some of the UK's most well-respected and popular woodworkers in one place for three days of inspiration, creativity and entertainment.
Featuring:
Ben Crowe of Crimson Custom Guitars - Master Luthier and founder of Crimson Custom Guitars
Initially trained and qualified in classical instrument making, Ben was eventually drawn to the building of electric guitars and the creative scope they offer. He's built up a huge following on YouTube thanks to his world-class Luthier skills and innovative ideas and approaches. From that base, Crimson Custom Guitars has grown into the UK's second largest guitar manufacturer, also making their own range of high quality Luthier's tools and running a popular Luthiery school in the idyllic Dorset countryside which attracts students from all over the world.
See the Crimson Custom Guitars YouTube Channel here
John Clothier
A talented and innovative woodturner, John's work is as creative as it is stunning. He is an advocate of a mixed-media approach which includes the use of gold leaf, resin, metal and more to create unique and inspiring contemporary pieces.
See John's YouTube channel here
Gregory Moreton RPT
Gregory is a professional woodturner and tutor specialising in unique and challenging work, covering bowls, platters, hollow-forms, vases and many bespoke projects and collaborations. He exhibits his work worldwide and has been the subject of numerous magazine articles. Gregory regularly demonstrates around the UK and in addition to sitting on various woodturning committees, is also a member of the Register of Professional Turners (RPT).
See Gregory's website here
Jamie Page
Jamie is an avid scrollsawer and turner, sharing his work on YouTube and is also a co-host of the podcast Makers International. Jamie is particularly well-known for his highly detailed and intricate scrollsaw projects.
See Jamie's YouTube channel here
Martin from MG Makes
Much of Martin's inspired work is made from reclaimed timber, creating beautiful pieces from what would otherwise have been thrown away. Even though Martin is still in the relatively early stages of his woodturning journey, his creative approaches and eye for design make it clear that there's a bright future ahead in the woodturning world.
See Martin's YouTube channel here
Craig Heffren of Record Power
Craig is Record Power's resident bandsaw expert and well-known international demonstrator. His industry-leading Bandsaw Masterclass is approaching legendary status on the worldwide show circuit and there's nobody better qualified to show you how to get the most from this incredibly versatile machine.
Stuart Pickering of Record Power
Stuart is an expert woodturner and has been a familiar face at Record Power shows for decades, travelling the world to perform woodturning demonstrations and share his invaluable experience and skills. Coming to Record Power many years ago from the famous Coronet company of Derby, Stuart's knowledge of lathe manufacture and use is second-to-none.
Surrey Association of Woodturners
Representatives from this well-established local woodturning club will be performing demonstrations throughout the show. They will also be available to discuss the club, its activities and the benefits of joining.
PLUS Enter the PRIZE DRAW to win a year's membership to SAW.
See the Surrey Association of Woodturners website here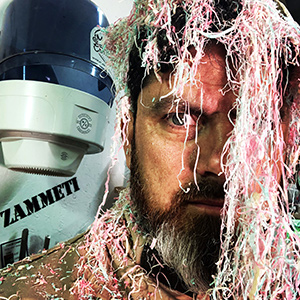 Special Guest Appearance - Saturday Only!
Nick Zammeti
Nick is the mastermind behind the fantastic Makers Central show, as well as hosting his own incredibly popular YouTube woodturning channel. Nick will be at the show throughout Saturday to meet-and-greet visitors and talk about his unique and creative approaches to woodturning.
See Nick's YouTube channel here
Make a Pen for Free!
The Surrey Association of Woodturners will be offering free pen turning tuition to show visitors! All participants get to keep the pen they've made. Places are allocated on a first-come-first-serve basis so please visit the stand early to avoid disappointment.
Schedule
FRIDAY 4TH OCTOBER
10:30 am - Getting Started in Woodturning - Stuart Pickering of Record Power
11:15 am - An Introduction to the Versatility of the Scrollsaw -  Jamie Page
12:00 pm - Turning an Oak Post Bowl - Gregory Moreton
12:45 pm - Bandsaw Masterclass - Craig Heffren of Record Power
1:30 pm - Tricks of the Determined Hand Tool Sharpener - A Guitar Builder's Search for The Perfect Edge - Ben Crowe of Crimson Guitars
2:15 pm - Bowl Turning for Beginners - Martin from MG Makes
3:00 pm - Artistic Woodturning Using Colouring Techniques and Gold Leaf – John Clothier
SATURDAY 5TH OCTOBER
10:30 am - Getting Started in Woodturning - Stuart Pickering of Record Power
11:15 am - Bandsaw Masterclass - Craig Heffren of Record Power
12:00 pm - Tricks of the Determined Hand Tool Sharpener - A Guitar Builder's Search for The Perfect Edge - Ben Crowe of Crimson Guitars
12:45 pm - Artistic Woodturning Using Colouring Techniques and Gold Leaf - John Clothier
1:30 pm - An Introduction to the Versatility of the Scrollsaw - Jamie Page
2:15 pm -  Turning A Natural-Edged Tube Form - Gregory Moreton
3:00 pm - Bowl Turning for Beginners - Martin from MG Makes
SUNDAY 6TH OCTOBER
10:30 am - Getting Started in Woodturning - Stuart Pickering of Record Power
11:15 am - Artistic Woodturning Using Colouring Techniques and Gold Leaf - John Clothier
12:00 pm - Bowl Turning for Beginners - Martin from MG Makes
12:45 pm - Bandsaw Masterclass - Craig Heffren of Record Power
1:30 pm - Tricks of the Determined Hand Tool Sharpener - A Guitar Builder's Search for The Perfect Edge - Ben Crowe of Crimson Guitars
2:15 pm - Turning a Natural-Edged Tulip Vase - Gregory Moreton
3:00 pm - An Introduction to the Versatility of the Scrollsaw - Jamie Page